Spring
A simple and fun spring activity is to make a bird nest. We try to do this activity every year when we are out hiking,biking and playing in one of Toronto's park. Later in the season we will visit the nest and see if any birds did take it over this spring.
Add a comment
In Toronto, spring is finally in the air and I'm enjoying seeing spring flowers coming up from the ground.
Here is how we like to connect with Easter and the outdoors:
Add a comment
One of the most common complaints for parents is having less time to exercise. You know, swinging is not just fun for kids. Adults can make use of the swing set to work up quite a sweat while the kids are having fun. It's great to integrate everyone's needs into playtime activities.
Add a comment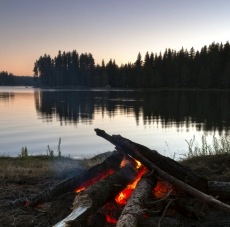 As summer approaches and class time winds down, we start thinking more and more about the outdoors: camping, swimming, and cottage season. But the warming weather doesn't mean it's time to shelve the musical instruments until September. Here are few ideas to create musical moments with your family all summer long.
Add a comment
What is letterboxing?  First off, there are two aspects to letterboxing- finding them and leaving them.  The site that I usually use is http://www.letterboxing.org/. You can search the locations of letterboxes all over the world.  You can also create an account to list letterboxes of your own that you have hidden. The roots of letterboxing are debatable, but here is a site with some info: http://www.atlasquest.com/about/history/. Basically they are boxes hidden by people that you can find outdoors by following clues.  Some are easy to find and some are very hard, depending on what kind of a challenge you would like.
Add a comment
I often hear this from parents, "My boys are not into nature play" or "They are just into sport or it is so hard to get them outside to play; they would rather be inside playing video games".
Add a comment
Read more: Boy play? Play in the dirt, play monster and ninja games
JPAGE_CURRENT_OF_TOTAL